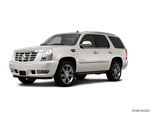 Other than some enhancements to the Escalade's brakes and two new colors, there are no major changes to the 2013 Escalade SUV.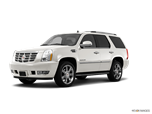 Cadillac Escalade models receive a few modest updates for 2012, highlights of which include two new exterior colors for Escalade SUV models (Radiant Silver Metallic and Crystal Red Tintcoat), a new center console design, and navigation system enhancements.
About Cadillac Escalade
Fast-living rappers and bling-dazzled celebrities swooned over the previous-generation Escalade. In addition to adding power and a few inches of length to Cadillac's full-size SUV, the 2007 redesign stresses finesse over flashiness. Cadillac says it sought Nissan's athleticism but without its harshness, Toyota's suppleness without its vagueness, and Ford's isolation without its heaviness. Refinements are easily noticeable, inside and out, and the latest Escalade behaves more admirably on the road than its predecessor. Marketers claim segment-leading horsepower and torque for the new "Gen IV" 6.2-liter V8. At 60 mph, the V8 lazes along at just 1500 rpm.