2007 Cadillac Escalade Review
By KBB.com Editors
Fast-living rappers and bling-dazzled celebrities swooned over the previous-generation Escalade. In addition to adding power and a few inches of length to Cadillac's full-size SUV, the 2007 redesign stresses finesse over flashiness. Cadillac says it sought Nissan's athleticism but without its harshness, Toyota's suppleness without its vagueness, and Ford's isolation without its heaviness. Refinements are easily noticeable, inside and out, and the latest Escalade behaves more admirably on the road than its predecessor. Marketers claim segment-leading horsepower and torque for the new "Gen IV" 6.2-liter V8. At 60 mph, the V8 lazes along at just 1500 rpm.
You'll Like This Car If...
If your driving life demands plenty of room for people plus cargo, along with luxury amenities and a brash aura, the Escalade could be your breed of SUV. Though not quite as glitzy in this iteration as the last, the audacious Escalade continues to get you noticed.
You May Not Like This Car If...
Full-size dimensions translate to improved but still so-so gas mileage, plus a rather high climb into the passenger compartment. So, if you can survive with a less-bulky luxury SUV, you may want to consider the Escalade an also-ran.
What's Significant About This Car?
Fresh, distinctive styling is meant to differentiate the Escalade from its GM stablemates, the Chevrolet Tahoe and GMC Yukon, while available 22-inch tires may enhance its "street cred."
Driving Impressions Sure, this Escalade is energetic with its new powertrain—but not exactly dramatic. Hitting the gas at lower speeds doesn't always produce vigorous response. Gruff engine growls during acceleration don't sound...
Cadillac-like. Automatic-transmission shifts are impressively smooth, though on upgrades it sometimes seems uncertain what to do next. Handling isn't really trucklike, but in curves, the Escalade doesn't always feel fully confident, making it tempting to ease up on the gas. Steering feel is pleasing—definitely not scary-light as in old Escalades. Expect a smooth ride on good surfaces. Minor bumps make the vehicle jumpy, if it's wearing 22-inch tires.
Manual-mode Transmission Operation
Placing the + and - (upshift/downshift) buttons on the column gearshift might not seem like a good idea at first. Most vehicles with a manual-shift provision have a floor lever. Even so, these buttons are unusually easy to find and use, and the transmission responds with satisfying promptness.

Power Fold-and-Tumble Second-row Seating
Third-row access is a serious issue in big SUVs, and an easy-folding second-row seat can save a lot of irritation. This option powers down at the push of a console or door-pillar button.
2007 Cadillac Escalade Details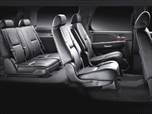 Interior
Details count inside, too. "Live bigger on the inside, but drive smaller on the outside" is the slogan for the 2007 Escalade, which promises premium materials and low gloss levels. Seating is available for six to eight passengers. No exposed fasteners are visible, and close-out panels conceal seat hardware. Pillars are fabric-wrapped. Cadillac moved the instrument panel down and forward four inches. Thinner seats contain sculpted backs. Seats recline further, and front-seat travel is an inch greater. Gauges are large enough, but blue pointers impair readability. Sadly, there's no driver's grab handle, and the passenger handle is a long reach.
Exterior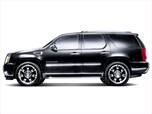 Besides concentrating on proportions and execution, designers strove toward such detail refinements as reduced body gaps. All major components and sheet metal are new, according to Cadillac, including fully-wrapped front and rear fascias, triple-stack HID headlamps, and a unique D-pillar treatment. Noteworthy doors, inspired by Cadillac's Sixteen concept car, wrap over the rocker panels. Ventiports adorn the front fenders, and the windshield is steeper. Track width has grown by three inches up front, and a coil-over-shock suspension replaces the prior torsion bars. The boxed frame promises 49-percent greater torsional stiffness. Standard wheels are 18-inch, but hard-to-miss 22-inch tires are available.
Standard Equipment
A power rear liftgate heads the list of standard features in the amply-equipped Escalade. Compatibility brackets, built into the front frame, could reduce damage to other vehicles in a collision. Side-curtain airbags include tethers for enhanced rollover protection. Front seatbelt pretensioners activate in rear impacts—said to be an "industry-exclusive" feature. GM's StabiliTrak system incorporates rollover mitigation technology. Audiophiles can enjoy Bose 5.1 Digital Surround Sound, while everyone benefits from Cadillac's Auto Ride suspension. Integrated tow hooks are standard. A tap-up/tap-down manual mode for the transmission works easily and promptly, using buttons on the column-mounted gearshift lever.
Optional Equipment
Power fold-and-tumble second-row seats, for an extra $425, are called an "industry exclusive." Heated seats now are offered in all models, as part of a $625 Climate Package. Rear parking assist is available, along with a rearview camera. Both are incorporated into a $2,495 Information Package that also includes Cadillac's navigation system. Installing 22-inch wheels adds a hefty $2,995 to the Escalade's price. Power-deployable running boards will join the option list this summer. When properly equipped, an all-wheel-drive Escalade can tow up to 7700 pounds, which could be good news for boaters and RVers.
Cadillac has enlarged its V8 engine from 6.0 to 6.2 liters, and given it a substantial boost beyond the previous 345 horsepower. With its two overdrive ratios and wide gear-ratio spread, the new Hydra-Matic 6L80 six-speed automatic transmission is said to be nearly equivalent to a seven-speed. Manual-shift mode uses column-lever buttons.

6.2-liter V8
403 horsepower at 5700 rpm
417 lb.-ft. of torque @ 4400 rpm
EPA city/highway fuel economy: 14/18 (2WD), 13/17 (AWD)
To compare current market prices, check out KBB.com's car classifieds to view the new and used Cadillac Escalade vehicles for sale near you.