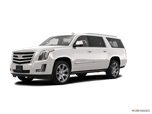 All-new for 2015, the Escalade boasts a redesigned interior and exterior, while fuel-economy figures climb slightly over the model it replaces. Versions built later in the 2015 model year have already been updated with an 8-speed automatic transmission, surround-view camera system and 4G LTE connectivity. The top-line Platinum edition also joins the collection.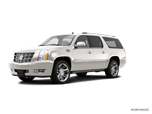 Cadillac is winnowing its Escalade offerings to just two versions for 2014, the regular model and the even longer ESV version. No longer available are the Escalade Hybrid or pickup-like Escalade EXT. The only thing new for the 2014 Escalade lineup is an exterior color: Midnight Plum Metallic.
About Cadillac Escalade ESV
The full-size luxury SUV segment has a lot to offer, but with an all-out redesign for the 2015 model year, the Cadillac Escalade has climbed back to the top of the pile. While other SUVs have decided to go smaller and more fuel efficient, the Escalade goes its own way, offering regular and long-wheelbase (ESV) models, with both powered by a 6.2-liter V8 engine. The all-new Escalade continues on with its boxy, bold profile and benefits from a redesigned interior which grants Cadillac's biggest offering a spot on the must-see list. If you're looking to seat eight in the lap of luxury, a ton of storage space, and a towing capacity of up to 8,300 pounds, the 2015 Cadillac Escalade would like to speak with you.