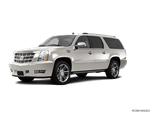 Other than some enhancements to the Escalade's brakes and two new colors, there are no major changes to the 2013 Escalade SUV.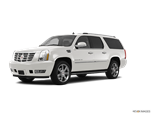 Cadillac Escalade models receive a few modest updates for 2012, highlights of which include two new exterior colors for Escalade SUV models (Radiant Silver Metallic and Crystal Red Tintcoat), a new center console design, and navigation system enhancements.
About Cadillac Escalade ESV
Cadillac's three-row Escalade ESV is the luxury king of SUVs. Lincoln's equally-new long-wheelbase Navigator L offers a few competitive advantages, including its fold-flat third seat, but has 103 less horsepower and nine less cubic feet of cargo space than Cadillac's biggest SUV. The Navigator L boasts more towing capacity and a Manufacturer's Suggested Retail Price (MSRP) of nearly $9,000 less, but the Escalade dominates in image. The full-size Escalade ESV has become the status symbol choice for country clubbers and the urban cool affluent, and this 21-inch longer version offers even more than the previous generation.