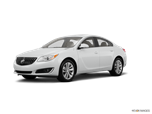 The big news this year is a dramatic price cut on all 2016 Buick Regal models. The GS trim, for example, is cut by nearly $3,000 with no loss of content. Apple's CarPlay can now seamlessly integrate an iPhone with the Regal's IntelliLink system, which features new screens and revised controls.
The 2015 Buick Regal gets new 4G LTE connectivity with its OnStar suite, a connectivity that can be shared with wireless devices through the on-board Wi-Fi setup. It also gets enhanced iPhone compatibility thanks to Siri Eyes Free.
About Buick Regal
Buick's Regal sedan for 2016 appeals to savvy buyers with its reasonable size, fuel-efficient engine lineup and impressive array of technology. Among the Regal's highlights are its 4G LTE connectivity, built-in Wi-Fi hotspot (requires a monthly fee) and Siri Eyes Free and CarPlay technology that permits seamless integration with Apple's iPhone voice-recognition feature. This level of gear is usually found on luxury cars such as the Audi A4, Volkswagen CC and Acura's TLX, but with the 2016 Buick Regal, customers get all this plus a European-inspired chassis, compliments of GM's Opel car division. Three distinct models include a mild hybrid with eAssist, the base car and the sporty Regal GS, the latter two offered with available all-wheel drive.