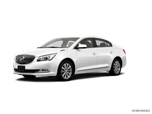 Extensively freshened, the LaCrosse sports a bigger waterfall grille, a new hood, and revised lighting with the option of bi-xenon HID adaptive headlights. The rear fascia has an integrated spoiler and wraparound LED taillights, and the interiors have been redesigned with upgraded materials, new seats, a new center control stack, updated telematics, and a posh new Ultra Luxury option.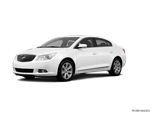 After eAssist's debut last year, 2013 is quiet for the LaCrosse. Option groups are arrayed in five packages now (previously seven), ranging from the base LaCrosse to the Touring package, with Leather, Premium I and Premium II levels filling in. All-wheel drive (AWD) is available on Leather and Premium I trim levels.

About Buick LaCrosse
Buick's 2014 LaCrosse is intended to bring younger buyers to what has traditionally been seen as a nameplate for more senior folks. Conservatively handsome, well equipped, capable, quiet, comfortable, and refined, the car boasts eAssist, GM's mild-hybrid system. A 304-hp V6 engine is available, and offers the option of all-wheel drive. But we actually prefer the progressive spirit of the eAssist powertrain, with its 2.4-liter 4-cylinder engine, small electric "boost" motor and regenerative braking. In a rare win-win, the system improves both fuel economy and performance, and combines with the car's solid look and feel to create a thoroughly credible alternative to the established imports. Although powertrains and chassis are unchanged, the LaCrosse rolls into 2014 with new front and rear fascias and upgraded interiors.