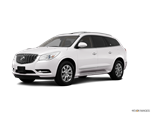 A 2013 freshening brings the Buick Enclave crossover SUV new front and rear styling, a new instrument panel and interior trim, and an industry-first front-center airbag. Equipment packages are simplified; essentially, the former Convenience option group is now the standard base trim. Accordingly, the starting price increases almost $2000.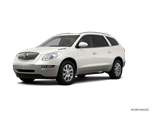 The 2012 Buick Enclave SUV drops the CX and CXL trim designations, leaving a single model with a number of option packages. New standard features include Hill-Hold Assist and an electronic brake override system designed to prevent unintended acceleration.
About Buick Enclave
Over the years Buick has earned a reputation as a builder of cars that are long on comfort, if short on excitement. It is a little surprising, then, to encounter the Buick Enclave, a family-friendly eight-passenger crossover SUV that proves Buick can build an exciting vehicle. The Enclave is Buick's entry into the growing luxury SUV category and competes with well-established offerings from Lexus, Acura, BMW and Volvo. With eye-catching exterior styling, a highly usable interior and a remarkably quiet cabin the Buick Enclave has what it takes to be a viable competitor in this hot segment.