The 2015 BMW Z4 is the end of the line for this model, as a new one is in the pipeline for the 2016 model year. No changes are planned, but we expect a limited final edition model at some point during the year.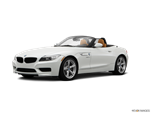 The BMW Z4 sees only a handful of minor enhancements to its interior and exterior styling for the 2014 model year.
About BMW Z4
Whether you think a roadster should be all about power, handling and feel, or whether it should be more about style, comfort and open-air fun, the 2015 BMW Z4 offers a compelling choice. While cars like the Mercedes-Benz SLK and Audi TT lean more toward luxury, and the Porsche Boxster is more overtly sporty, this BMW Z4 splits the difference, appealing to sports car and touring enthusiasts alike. The retractable hardtop removes one barrier against buying a drop-top, and the driver-oriented cockpit is roomy even for tall drivers, surprising for this class. Both the 4-cylinder (sDrive28i) and 6-cylinder (sDrive35i and sDrive35is) models offer plenty of turbocharged power, making the 2015 BMW Z4 a true world-class roadster.