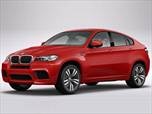 The 2013 BMW X6 receives a number of minor improvements including modest front and rear styling updates, more use of LEDs in the taillights and headlights and some new paint colors.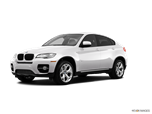 For the 2011 model year the X6 received both a new in-line-6 and 8-speed automatic transmission. The only significant addition to the 2012 BMW X6 is the availability of a split-folding rear seat, enabling three passengers to sit abreast when, of course, said seat isn't folded. This increases the X6 passenger volume by 25 percent, a nod to practicality you won't find elsewhere in the X6 architecture.
About BMW X6 M
To its credit, in the evolution of its sport-sedan fleet BMW has come a long way. Although some might take issue with the 1 Series sheetmetal when compared to an early 2002, few would argue with the dynamic improvements. BMW's recent foray into the SUV market is something else altogether, and nothing in its lineup is so egregious – to the BMW faithful – as the X6 and its many derivatives - including a 6-cylinder version, a wicked-powerful hybrid model and the 547-horsepower twin-turbocharged X6 M. What the Bavarians describe as the "first ever Sports Activity Coupe" is – in our view – the answer to a question too few have asked. Built atop the BMW X5 platform in Spartanburg, South Carolina, the X6 enjoys the unique distinction of weighing slightly more than the X5, costing significantly more and transporting significantly less. It is – again, in our view – a lose/lose/lose proposition, but then, enthusiasts of the 2002 (or, for that matter, today's 1 Series Coupe) are probably not on the X6 team's marketing radar.