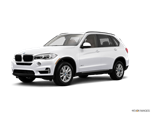 For 2015, the high-performance X5 M rejoins the BMW lineup. Other than some minor equipment changes and a 1-mpg increase in the xDrive50i's city fuel-economy rating, there are no major changes to BMW's 2015 X5 SUV.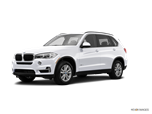 The 2014 X5 is all new as it enters its third generation. A new model joins the lineup as the base version: the sDrive35i, which is the first X5 to offer rear-wheel drive. All other X5 models continue to have all-wheel drive (xDrive) standard.
About BMW X5
As in the beginning, BMW chooses to market its X5 for 2015 a "sports-activity vehicle" or SAV for short. We'll just stick with SUV, as the X5 isn't really any more capable than a comparably equipped Porsche Cayenne or Mercedes-Benz M-Class. However, when it comes to the "sport" part of the equation, the X5 quickly moves to the head of the class. Fresh from a complete overhaul last year, the 2015 BWM X5 SUV delivers an excellent combination of room, performance and economy. And, although it can't tackle rugged off-road terrain like a Land Rover Range Rover Sport or even the Jeep Grand Cherokee, the X5 leaves no doubt which luxury SUV is the master of the paved road.