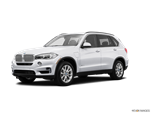 For 2016, a new X5 xDrive40e plug-in hybrid joins the lineup, providing up to 13 miles of pure electric driving enjoyment and fuel-economy estimates up to 56 mpge.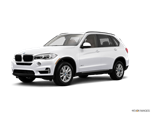 For 2015, the high-performance X5 M rejoins the BMW lineup. Other than some minor equipment changes and a 1-mpg increase in the xDrive50i's city fuel-economy rating, there are no major changes to BMW's 2015 X5 SUV.
About BMW X5
Although the 2016 BMW X5 is branded by the company as a "sports-activity vehicle" or SAV, for simplicity's sake we'll just lump it in with such equally capable SUVs as the Porsche Cayenne and Mercedes-Benz GLE. However, there's no denying the X5 places a big emphasis on the "sport" part of sport-utility vehicle, offering an impressive lineup that includes a plug-in hybrid, diesel model and high-performance M variant. Though it has grown slightly in size, the X5 remains manageable and delivers big in the areas of room, economy and performance. While it certainly is the master of the paved road, the pricey X5 still takes a back seat to such off-road champs as the Jeep Grand Cherokee and Land Rover Range Rover Sport.