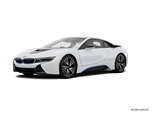 The 2015 BMW i8 plug-in hybrid coupe gains Comfort Access keyless entry and start system as part of its standard equipment list.
About BMW i8
Halo cars usually pack massive engines and massive performance into an exotic shape. But, in the case of the 2015 BMW i8 hybrid coupe, the company has taken a dramatically different approach. Unlike the Audi R8 or Mercedes-Benz SLS AMG, BMW's "Efficient Dynamics" philosophy is in full force with i8. With its mid-mounted turbocharged gasoline engine and electric-motor drivetrain, the carbon-fiber-and-aluminum i8 requires only 357 horsepower to make it move like a V12 exotic, and can travel up to 15 miles on electric drive only. Of course, the i8's $137,500 price tag means you won't be cross-shopping it with a Toyota Prius, or even the Cadillac ELR. However, a nice Porsche Panamera S E-Hybrid is an excellent competitor.
View
BMW vehicles for sale
near you.