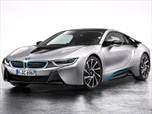 The 2014 BMW i8 reflects the German automaker's commitment to its new "i" sub-brand. Assembled using 100-percent renewable energy, the i8 serves as the marketing umbrella for BMW's growing number of premium green vehicles, such as the entry-level i3.
About BMW i8
BMW could've taken the predictable route and developed another traditional halo car like the Audi R8 or Mercedes-Benz SLS AMG, but instead doubled down on its philosophy of "Efficient Dynamics" and produced a sports car for today's more progressive driving enthusiast: the 2014 BMW i8. Its carbon fiber and aluminum shell is home to a mid-mounted turbocharged gasoline engine and an electric drive system that delivers 357 horsepower and an all-electric range of up to 22 miles. Then again, a $136,000 starting price means this next-generation driving experience doesn't come cheap. And while you could purchase two Cadillac ELRs for that kind of money, the i8's price tag still falls roughly in line with its other plug-in hybrid rival, the Porsche Panamera S E-Hybrid.
View
BMW i8 vehicles for sale
near you.