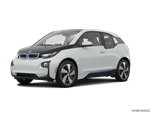 The 2015 BMW i3 electric vehicle gains a few new standard features, including the DC fast-charging port (optional last year), heated front seats and satellite radio.
About BMW i3
BMW's i3 EV for 2015 enters its second year of production with almost as much fanfare as when it first debuted. As part of BMW's new i sub-brand of electric cars, the i3 EV offers an upscale alternative to the Nissan Leaf and Chevy Volt. As many consumers still worry about running out of battery power, the i3 offers an optional gasoline engine that acts as a generator, in essence nearly doubling the car's 80-mile range. With unique carbon-fiber-reinforced plastic body components, a slew of high-tech interior features and a suspension setup from a company known for its performance excellence, the 2015 i3 EV from BMW stands apart from other electrics, while directly challenging Tesla to create a similar EV for less the $45,000.
View
BMW vehicles for sale
near you.