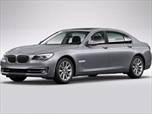 The biggest news for the BMW 7 Series this year is under the hood, in the form of a new 6-cylinder diesel engine. This turbocharged 6-cylinder offers up fuel economy that's superior to the ActiveHybrid 7 model, and it can accelerate to 60 mph in just over six seconds.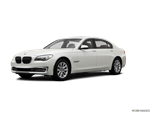 Changes for the 2014 BMW 7 Series include the addition of a configurable digital instrument cluster (except on hybrid and Alpina models) and an enhanced navigation/iDrive system with a new touchpad controller. The power trunklid gets a motorized open/close feature activated by running one's foot under the rear bumper, and 750 trims can be fitted with the smaller (and less easy to damage) 18-inch wheels at no extra cost.
About BMW 7 Series
For those fortunate enough to afford a premium luxury sedan, BMW builds the 2014 7 Series sedan. Comfort and convenience features on BMW's flagship exceed the norm – almost to the point of excess – yet the 7 Series offers more than just plush accommodations for five. Available engine choices range from a turbocharged inline-6 to an obscenely powerful V12. Whether you choose the standard model or long-wheelbase "Li" trim with six inches of additional rear legroom, you'll be getting a big sedan that loves to drive as much as it does impress. Placed against the new Mercedes-Benz S-Class and the Audi A8, the 7 holds its own quite well. It outperforms the Lexus LS 460 and Jaguar XJ, and has no American-based rival to speak of.