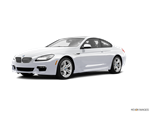 The new 2015 BMW Alpina B6 xDrive Gran Coupe offers more performance than the 650i xDrive, but more luxury than the M6 Gran Coupe. Alpina, by the way, is a 3rd-party high-performance BMW tuner, working so closely with BMW that its cars are sold in BMW dealerships.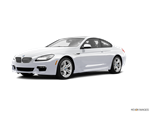 Drivers who love engaging their left foot will rejoice that M6 performance variants can be had with a 6-speed manual transmission in lieu of the 7-speed double-clutch automatic. For just 100 buyers, there is a limited Frozen Brilliant White Edition convertible. All 2014 BMW 6 Series models receive updates to their navigation systems.
About BMW 6 Series
The 2015 BMW 6 Series slots between the 5 and 7 Series cars with a coupe, a convertible, and a 4-door that BMW calls a "Gran Coupe," but we all know is really just a sleek sedan. Sleekness is all part of the game though, as the 6 Series is designed to offer eye-catching style over practical transportation. All three models offer plenty of style and performance, with engines ranging from a turbocharged 6-cylinder to a couple different V8 models. With roots that trace back to the late 1970s, the 3rd-generation 6 Series remains a leader in grand touring, even against such tough competitors as the Jaguar XK, Mercedes-Benz E-Class Coupe and Audi S5.