Narrow year range (drag arrows to filter):
See photos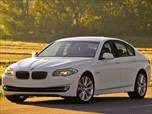 BMW created an all-new 5 Series for the 2011 model year, but the hits just keep on coming. For 2012, BMW dumps the 3.0-liter six in the base 528i and substitutes a 2.0-liter turbocharged four. With a bump in horsepower, torque and efficiency, this would seem to be a win/win/win for the consumer. However, Americans have been historically reluctant to spend big bucks on small powerplants. Hopefully, the dynamic has changed with escalating gasoline prices and growing awareness of global warming. The larger Gran Turismo uses 6-cylinder and 8-cylinder engines.
See photos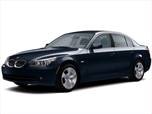 The 5 Series gains two significant changes for 2010. First is the addition of the newest iDrive system on cars equipped with the available navigation system, and second is the creation of a new M Sport Package that adds an Anthracite headliner, an exterior aerodynamic package with Shadowline trim, and M-specific wheels, door sills, footrest, gearshift lever, and steering wheel.
About BMW 5 Series
The BMW 5 Series has long been the benchmark for midsize luxury sports sedans. It maintains the performance cred earned over the decades, yet now offers so much more. The 2015 BMW 5 Series is available in a dizzying variety of versions, from a $50,000 base model with a 4-cylinder engine to the fire-breathing M5 costing nearly twice that much. In between are diesel and hybrid variants, and even the Gran Turismo 5-door hatchback, whose SUV-like practicality somewhat alleviates its awkward looks. As the 5 Series lineup has expanded, so has a list of rivals that includes the Mercedes-Benz E-Class, Audi A6 and Lexus GS. Amid the stiff competition, the 5 Series remains a standout with its blend of performance, technology and brand cachet.