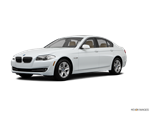 For 2013, the new 560-horsepower M5 joins the 5 Series lineup along with a number of minor performance and cosmetic enhancements. Leading the list of changes is a next-generation navigation system with weather forecasts and crowd-sourced traffic information, newly available bespoke features from BMW Individual and a 45-horsepower bump for Gran Turismo variants sporting the twin turbo V8.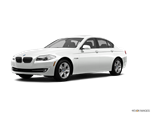 BMW created an all-new 5 Series for the 2011 model year, but the hits just keep on coming. For 2012, BMW dumps the 3.0-liter six in the base 528i and substitutes a 2.0-liter turbocharged four. With a bump in horsepower, torque and efficiency, this would seem to be a win/win/win for the consumer. However, Americans have been historically reluctant to spend big bucks on small powerplants. Hopefully, the dynamic has changed with escalating gasoline prices and growing awareness of global warming. The larger Gran Turismo uses 6-cylinder and 8-cylinder engines.
About BMW 5 Series
The 525i and 530i sedans are two of BMW's most successful vehicles. Their powerful styling is matched by two new six-cylinder engines introduced last year. With more interior room than a 3 Series but less exterior bulk than the pricey 7 Series, the 525i and 530i comfortably fill the dual roles of being both performance and family sedans. Beyond their trademark styling and obvious social status, the BMW 5 Series sedans offer a number of genuine advantages, such as a six-speed manual transmission, the availability of all-wheel drive (525xi and 530xi) and the latest advances in electronically assisted suspension, steering and engine operation.