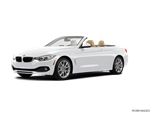 This year marks the debut of the 2015 M4 coupe and convertible, and the new 4 Series Gran Coupe. The former models pack a roaring 425-horsepower engine and other performance upgrades, while the latter is a 4-door model with more cargo room and passenger space.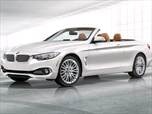 BMW didn't just slap a number 4 on a carryover 3 Series that happened to have two doors. The new 4 Series features fresh aesthetics inside and out, powertrains boasting 8-speed automatic transmissions, and the lowest center of gravity of any vehicle in BMW's lineup.
About BMW 4 Series
Introduced last year, the BMW 4 Series is a newer model line with a familiar concept: essentially, 2-door versions of the 3 Series. The fresh nomenclature sets the 4 Series coupe and hardtop convertible apart from the growing variety of 3 Series models, though for 2015, the 4 Series itself is expanding with the introduction of the Gran Coupe, a 4-door meant to look sleeker than a traditional sedan. While the 2015 4 Series range is growing, the lineup retains the powerful engine choices, excellent driving manners, innovative technology and sporty styling inherent to BMW. Like luxury rivals such as the Audi A5, Mercedes-Benz C-Class coupe and Cadillac ATS coupe, the 4 Series adeptly blends performance and refinement to go with its $40,000-plus starting price.