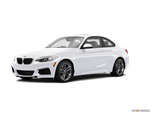 The 2015 BMW 2 Series adds two all-wheel-drive models this year, the 228i xDrive coupe and convertible, and the M235i xDrive coupe, putting it on more competitive footing against AWD rivals from Audi and Mercedes-Benz. The 228i model also offers a Track Handling Package for enhanced handling performance.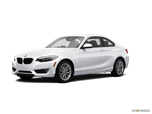 The 2014 BMW 2 Series is 4-seat, 2-door coupe and an all-new nameplate for the U.S. market.
About BMW 2 Series
The 2015 BMW 2 Series lineup of coupes and convertibles includes a healthy dose of extra competitiveness with the introduction of three new all-wheel-drive (AWD) models. The new BMW 228i xDrive coupe and convertible, and M235i xDrive coupe offer BMW's Intelligent AWD system as a counterpunch to the AWD Audi A3 quattro and Mercedes-Benz CLA 4Matic. Those seeking more thrills can get a new Track Handling Package for the 2015 BMW 228i. While AWD will certainly be welcomed by some, 4-door shoppers will still have to look elsewhere until the new BMW 1 Series debuts sometime in 2017. Still, there's a lot to like about this smallest BMW car, and it offers a compelling choice if you're shopping for the Audi, Mercedes-Benz, or other rivals like the newly revamped Acura ILX.