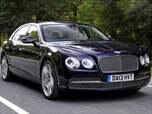 Only minor changes are in store for the 2015 Flying Spur, which received a full revamp last year. Updates include new wheel and exterior color choices, while the interior receives a sportier steering-wheel design and knurled-metal finish on the optional gearshift paddles.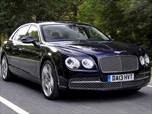 Once part of Bentley's Continental line, the 2014 Flying Spur becomes its own model. A new exterior design, suspension, engine and interior make the newest Flying Spur sedan also the quickest, most sophisticated and most expense to date. Later in the model year, a twin-turbocharged V8 version will debut.
About Bentley Flying Spur
The Bentley Flying Spur is an ultra-luxury sedan whose very name drips of provenance while its ride, handling and appeal are firmly planted in the present. Now known simply as the Flying Spur – it dropped the "Continental" moniker with last year's revamp – this 4- or 5-passenger sedan is among the most opulent that money can buy. To do that you'll need at least $200,000, a price that makes this British full-size sedan fly significantly higher than a Mercedes-Benz S-Class but still below a Rolls-Royce Ghost. Thanks to its 8- or 12-cylinder powerplants, the Flying Spur has more than enough power to move its magnificent metal, while its standard all-wheel drive and air suspension make it confident and compelling on most any road.