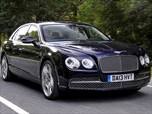 Once part of Bentley's Continental line, the 2014 Flying Spur becomes its own model. A new exterior design, suspension, engine and interior make the newest Flying Spur sedan also the quickest, most sophisticated and most expense to date. Later in the model year, a twin-turbocharged V8 version will debut.
About Bentley Flying Spur
Like a fine wine or vintage piece of art, the 2014 Bentley Flying Spur sedan is that rare vehicle coveted by its owner and lusted after by those who can only dream of owning one. The newest Flying Spur gains a number of improvements to further distance it from the competition, including a handsome new silhouette, more power and an enhanced interior, plus a place all its own within the Bentley lineup. Those seeking comfort, prestige and power will find the Flying Spur delivers all three in abundance. Its twin-turbocharged 12-cylinder engine should be more than enough to please the most demanding enthusiast and send shivers through the showrooms of rivals such as Rolls-Royce, Aston Martin and Mercedes-Benz.