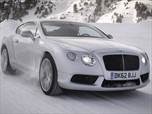 For 2014, the Bentley Flying Spur departs the Continental family to become its own model. A new GT V8 S trim is added, bringing a more sporting attitude to the V8 powered cars.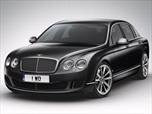 Bentley Continental GT coupe and convertible models now have an 8-speed ZF transmission that helps attain (slightly) better fuel economy, while the 2013 Flying Spur sedan continues with a 6-speed transmission before the vehicle's 2014 revamp. The GT Speed coupe and convertible performance variants boast additional power, with their 12-cylinder engines tuned to unleash 616 horsepower.
About Bentley Continental
Among the handful of the world's true ultra-luxury vehicles, the 2014 Bentley Continental GT is master of its domain. Offered only as a coupe or convertible (the Flying Spur sedan becomes its own model line this year), the Continental GT offers excesses in the areas of luxury and speed. Speed variants offer scorching performance without sacrificing the luxury heritage that draws so many of the mega-rich to the brand. The handmade coupe and convertible are meticulously crafted with skills belonging to a grander generation, while the 8-cylinder and 12-cylinder engines infuse the Continental with 21st-century technology, creating a driving experience even a Rolls-Royce Wraith, Maserati GranTurismo or Aston Martin DB9 cannot duplicate.