Bentley Continental GT coupe and convertible models now have an 8-speed ZF transmission that helps attain (slightly) better fuel economy, while the 2013 Flying Spur sedan continues with a 6-speed transmission before the vehicle's 2014 revamp. The GT Speed coupe and convertible performance variants boast additional power, with their 12-cylinder engines tuned to unleash 616 horsepower.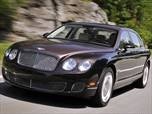 Minor styling changes and some added horsepower mark the big changes for the 2012 Bentley Continental.
About Bentley Continental
In the world of high-performance super luxury cars, few combine the performance, luxury and heritage found in the 2012 Bentley Continental. Offered as a coupe (GT and Supersports), a convertible (GTC) and a sedan (Flying Spur), the Continental lineup is all encompassing. There's even a high performance Speed variant. While the sedan is certainly every bit as capable as its 2-door counterparts, it's the coupe and convertible that steal the show. Big, wide and heavy, these beauties harken back to a different era, one where bigger really was better. Only now, they are equipped with enough modern technology to allow for blistering acceleration and brilliant handling. Available with velvety-yet-thundering twin-turbo 8- and 12-cylinder engines, the Continental truly is one of a kind.