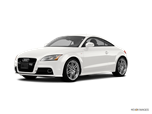 Little changes around the Audi TT family for 2013. There is a new S Line Competition package available on the TT model and some additional interior and exterior colors.
For 2012, the range-topping TT RS is added to the lineup along with a handful of feature content revisions.
About Audi TT
When it first hit the streets for the 2000 model year, the radically styled Audi TT — sleek and bulbous and minimalist at once — left not a single head unturned in its wake. Eight years and a truckload of design awards later, that car has earned for itself a place in automotive history. While it would be unrealistic to expect the same kind of visual impact from its follow-up, Audi has delivered a car that's even more exciting than the first. The front- or all-wheel-drive TT competes on varying levels with the BMW Z4, Mercedes-Benz SLK and the Porsche Boxster and Cayman, all of which are rear-wheel-drive cars.