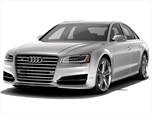 Updates for the 2015 Audi A8 include new front and rear design, an available head-up display with night-vision warning information, and a safety system to keep you from drifting lanes. The 4.0-liter V8 engine increases horsepower from 420 to 435.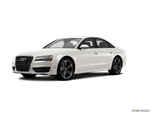 The 2014 A8 L is the latest addition to the ever expanding A8 lineup. Achieving an impressive EPA-estimated 24/36 city/highway rating, the A8 L TDI ushers in a new era of fuel efficiency to the full-size luxury segment. There are also several new option packages across the line.
About Audi S8
In the world of big executive sedans, the 2016 Audi A8 holds particular appeal. Not as boldly styled as the BMW 7 Series or Mercedes-Benz S-Class, the A8 flies just under the radar. The A8 distances itself from the competition by offering standard all-wheel drive (AWD) and by placing a heavy emphasis on the car's interior design. For those who prefer the back seat to the driver's seat, the A8 W12 provides limousine-like comfort and a 12-cylinder engine, creating a car that will never be mistaken for the standard airport livery car. Among the A8's other engine options is a fuel-efficient turbodiesel serving up class-leading fuel economy up to 36 mpg. With its shorter wheelbase, the performance-oriented S8 provides a measurable improvement in handling and acceleration.
View
Audi S8 vehicles for sale
near you.