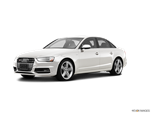 The 2013 Audi A4 gets a new hood and headlights, and inside, there's a new instrument cluster with simplified layout for the Multi Media Interface (MMI) electronics control. Electric power steering replaces the previous hydraulic boost. The A4 Avant wagon goes away with the arrival of the new Allroad.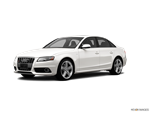 For 2012, the Audi A4 Premium Plus and Prestige models now come equipped with the Audi S line appearance package as standard equipment, and they also have stylish new 18-inch ten-spoke wheels.
About Audi S4
Audi's S4 takes all that is good about the A4 Sedan (comfortable interior, reasonable dimensions, razor-sharp handling) and ratchets it up a few notches by adding a potent V8 engine, standard quattro all-wheel drive and a race-inspired suspension. Designed to compete with the BMW M and Mercedes-Benz AMG Series, Audi expands the sports car definition by offering the S4 in sedan, wagon (known as the S4 Avant) and convertible forms. Comfortable enough to use as a daily driver, yet equally at home on a closed race track, the S4 delivers unrelenting doses of speed and agility, allowing even the novice driver to feel like a seasoned pro. The S4's $50,000 price tag and limited production numbers ensure the lucky owner a small measure of exclusivity.