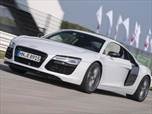 Updates for 2014 include refreshed front and rear fascias, standard LED headlights, a new dual-clutch transmission replacing the clunky old automatic and the addition of a range-topping V10 Plus model that boasts a 25 horsepower bump versus the standard V10 for a total of 550.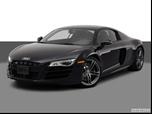 R8 models with the 4.2-liter V8 get a 10-horsepower increase to 430. Audi R8 GT versions of the coupe and convertible arrive in limited editions with less weight, more power and bigger price tags.
About Audi R8
By all accounts, the 2008 Audi R8 is a supercar, but that doesn't mean it's uncompromising and hard-edged. It's an incredibly capable performance machine, yet every bit as luxurious as it is sporting. The posh interior is loaded with electronics and bathed in leather and Alcantara. With Audi's venerable 4.2-liter V8 providing the power, the R8 isn't at all temperamental, as the notion of a supercar might suggest. Then again, it had better be really good if it is to compete with its most obvious rival, the Porsche 911 Turbo.