Narrow year range (drag arrows to filter):
See photos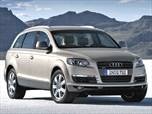 The 16-foot 8-inch long Q7 is specifically designed for the high-end U.S. SUV market, focusing on craftsmanship, multi-function seating, plenty of horsepower, unlimited cargo space, and every techie gimmick going. Upping the ante on driving dynamics, the Q7 bundles in Audi's latest generation of quattro, and pioneering safety features.
About Audi Q7
Audi admits it's late to the game, the most important in its history, but its arrival on the sport utility scene with the Q7 quattro is a triumph of technology, elegance, performance and quality. The Premium version wraps around six passengers (seven in the base model) in classy comfort and safety, offering innovative features to help you park easily, drive fast, and enjoy a versatile lifestyle. With all the hallmarks of the Audi heritage, the Q7 does not disappoint. Classified as a light truck by the EPA, it is built on a unibody which Audi prefers to call a car and indeed handling and interior amenities compare with any luxury sedan. Built-in is 25 years of permanent all-wheel-drive experience for limited off-road duties.