Narrow year range (drag arrows to filter):
See photos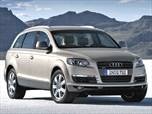 The 16-foot 8-inch long Q7 is specifically designed for the high-end U.S. SUV market, focusing on craftsmanship, multi-function seating, plenty of horsepower, unlimited cargo space, and every techie gimmick going. Upping the ante on driving dynamics, the Q7 bundles in Audi's latest generation of quattro, and pioneering safety features.
About Audi Q7
In the crowded world of luxury SUVs, the 2014 Audi Q7 is truly one of a kind. Handsome, poised and polished, the Q7 not only delivers in the areas of pampering passengers and impressing the neighbors, its powerhouse engine lineup and taut handling make it joy to drive. Two amazing supercharged V6 gasoline engines and one turbodiesel combine with standard quattro all-wheel drive (AWD) to move the Q7 around smartly yet efficiently, in any weather, on any road. The Q7's exterior styling is subtle but distinctive, with a wide grille and rounded corners. Unfortunately, that same styling creates a somewhat snug interior, most noticeable in the 3rd-row seat and rear cargo area.