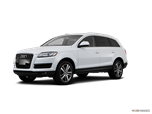 The turbodiesel engine in the Audi Q7 TDI is new for 2013. It's still a 3.0-liter V6 but makes 15 more horsepower (now 240), weighs 55 pounds less than the previous engine and yields better EPA fuel-economy ratings of 19/28. There are also some new infotainment system features this year.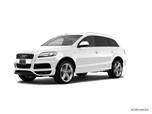 The base 3.0T gasoline engine gains an extra eight horsepower, bringing the non-S-Line-Package-equipped models to a total of 280 horsepower.

About Audi Q7
Audi admits it's late to the game, the most important in its history, but its arrival on the sport utility scene with the Q7 quattro is a triumph of technology, elegance, performance and quality. The Premium version wraps around six passengers (seven in the base model) in classy comfort and safety, offering innovative features to help you park easily, drive fast, and enjoy a versatile lifestyle. With all the hallmarks of the Audi heritage, the Q7 does not disappoint. Classified as a light truck by the EPA, it is built on a unibody which Audi prefers to call a car and indeed handling and interior amenities compare with any luxury sedan. Built-in is 25 years of permanent all-wheel-drive experience for limited off-road duties.