2008 Audi Q7 Review
By KBB.com Editors
Audi admits it came late to the sport utility game, but, nevertheless, the 2008 Q7 quattro is a triumph of technology, elegance, performance and quality. The Premium version wraps around seven passengers in classy comfort and safety, offering innovative features to help you park easily, drive smoothly and enjoy a versatile lifestyle. With all the hallmarks of Audi's heritage, the Q7 does not disappoint, and handling and interior amenities compare with any luxury sedan. Finally, the quattro all-wheel-drive system provides exceptional slick-surface traction and security.
You'll Like This Car If...
You'll like this car if parking a large SUV is your recurrent nightmare. Instead, it's a dream when the Q7 's rearview camera guides you into place with an onscreen view. Hauling people? Try the 28 different seating configurations. Cargo? Maximum trunk capacity is a mammoth 72 cubic feet
You May Not Like This Car If...
You may not like the Q7 if adults must use the third row. They could have trouble squeezing in and out, but children and most packages fit easily. And if you're an impatient pedal-masher you may find that the response lags a little when accelerating from zero to 30 miles per hour, although 30 to 60 is surprisingly exhilarating in this 5,269-pound vehicle.
What's Significant About This Car?
New standard features on the base 3.6 include leather seating surfaces, power front seats and a six-disc CD changer, while the 3.6 Premium adds a power tailgate, third-row seating and a rearview camera. The 4.2 gains four-zone climate control, navigation, 20-inch wheels and keyless start.
Driving Impressions The heft and solid feel of the 2008 Audi Q7 tooling along at highway speeds delivers a sense of sure-footedness and stability. The cruise control is easy to use and...
the adaptive air suspension's three choices—Dynamic for sporty driving, Automatic, and Comfort—cover every imaginable preference or requirement. In the off-road mode, the 8.1 inches of ground clearance works well over rocks and deep ruts, although severe washboard trails can generate some expected harshness. Then, back on-road, the suspension system automatically lowers the Q7 for higher-speed stability. While the Q7 is a fairly heavy vehicle and has a less-than-tight turning circle, the steering is precise and road noise is minimal. The seats are high, wide and supportive, the airy sunroof lets in lots of light and, with every function and feature at your fingertips, driving the Q7 compares very well to the top players in its field.
Adaptive Cruise Control
This system controls speed and following distance in traffic. The driver chooses his driving mode, which automatically determines the following interval from the vehicle in front.

Parking System
This system consists of a rearview camera and audio alert to aid in parking. An image of the rear bumper, with color-keyed assistance, appears on the monitor as the Q7 is backed into a parking space. Blue areas show if the space is large enough; orange lines guide the driver for parallel or angle parking.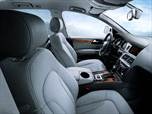 Interior
The interior, like all Audis, is second to none. The 2008 Audi Q7 is trimmed with luxury woods, aluminum inlays and stitched leather everywhere, including the heatable steering wheel. The cockpit is based on the A6 and every ergonomically-designed button, knob and switch is within easy reach, whether on the steering wheel, the dash or next to the shift lever on the center console. There are ten cupholders, a cooled glovebox, the driver's seat and steering column are both height-adjustable and both front seats have lumbar support. The middle seat in the second-row bench flips down to form a mini-table, and single-pull levers allow folding the seats flat. As would be expected, there is a full complement of frontal and side airbags. The cargo compartment includes tie-downs, cargo nets, a retractable cover, partitions, telescoping racks, a ski sack and a protective liner.
Exterior
The 2008 Audi Q7's exterior is sleek, striking and sporty, with a bold rectangular grille, high beltline, narrow side windows and a coupe-like roofline capped by a rack. The front overhang is comparatively short but in perfect proportion to the intent of the sporty design. A long wheelbase provides the Q7 with a self-possessed elegance. Headlamps, door handles and arched fenders fuse into a seamless, graceful unit. Sporty styling keeps this large SUV from the behemoth category and sets it apart as a well-appointed vehicle, for either the Ritz or river-side camping. The raked windshield, a small rear roof spoiler that houses the third rear light and a three-panel sunroof, complete with shade, are well-integrated. A wrap-around 45.7-inch wide tailgate lifts on hydraulic pistons and, fortunately for anyone under five-feet, four-inches tall, can be programmed to rise to the height of your choice. Heatable, fold-flat sideview mirrors are massive, and settings are saved in memory.
Standard Equipment
The Q7 Premium is loaded with advanced technology and exceptional standard features, including turning headlamps to illuminate bends in the road and a hill descent control that applies the brakes to help maintain control on steep, downhill grades. The Multi Media Interface (MMI) controls the navigation system, SIRIUS Satellite Radio, air suspension and audio system.
Optional Equipment
A worthwhile extra is the adaptive air suspension system with adjustable ride height and roll stabilization. Also available are rear side-impact airbags and an adaptive cruise control that controls speed and following distance in traffic. Audi's side assist utilizes radar to detect other vehicles approaching along the sides and monitors blind spots during lane changes. A towing package increases trailering capacity from 5,500 to 6,600 pounds, and 20-inch alloy wheels with high performance tires are available for the Premium model.
Audi's Q7 has the latest powertrain innovations: Fuel Straight Injection (FSI) that contributes to spontaneous response and enhanced power, the quattro all-wheel-drive system, a six-speed Tiptronic transmission and a Dynamic Shift Program that adjusts gear changes to your driving style and road conditions. Premium unleaded fuel is recommended, but the 2008 Audi Q7 can operate on regular unleaded, although doing so results in a five-percent power loss.


3.6-liter V6
280 horsepower @ 6200 rpm
266 lb.-ft. of torque @ 2750 rpm
EPA city/highway fuel economy: 14/19

4.2-liter V8
350 horsepower @ 6800 rpm
325 lb.-ft. of torque @ 3500 rpm
EPA city/highway fuel economy: 12/17
To compare current market prices, check out KBB.com's car classifieds to view the new and used Audi Q7 vehicles for sale near you.