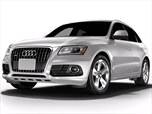 For 2016 Audi's Q5 luxury crossover adds a 3-spoke multifunction steering wheel and a panoramic sunroof as standard equipment. The Technology package on Premium Plus models gains a Bang & Olufsen sound system, while Audi's adaptive dampening suspension becomes a stand-alone option on the SQ5 Premium Plus.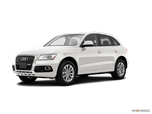 The 2015 Audi Q5 lineup's option packages change a bit. For example, a power tailgate and xenon headlights are now standard on the SUV's Premium package, and blind-spot assist and navigation combine for a new Technology package on Premium Plus models. The SQ5 gets a new high-gloss black package.
About Audi Q5
Audi's 2016 Q5 compact SUV delivers a healthy dose of luxury appointments, timeless style and exhilarating performance. With five different models on hand, the all-wheel-drive Q5 luxury crossover runs the gamut, from the efficient and affordable 2.0-liter turbocharged Premium, to the 354-horsepower supercharged V6 in the enthusiast-oriented SQ5. Those seeking cutting-edge technology or maximum fuel economy can opt for either a hybrid or diesel powertrain. No matter which Q5 is selected, the lucky owner will find a spacious and versatile interior, a ride that is comfortable, yet still sporty, and styling that is classic without being bland. Next to such competitors as the Lexus RX, Mercedes-Benz GLK and Lincoln MKC, the 2016 Audi Q5 is a commendable jack-of-all-trades.