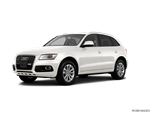 In addition to some front- and rear-end design tweaks, the big news for the 2013 Audi Q5 is a new supercharged V6 engine that replaces the naturally aspirated one, and a hybrid powertrain that pairs a turbocharged 4-cylinder with a lithium-ion battery pack and electric motor.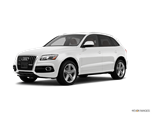 For 2012, the V6 models add a sleek S line package with titanium-finished 20-inch 5-spoke wheels, matte black roof rails, and window frames. The top-of-the-line Q5 Prestige model offers new rear-window sunshades, perfect for keeping your rear-seat passengers comfortable in the summertime.
About Audi Q5
We don't just like the idea of the premium compact crossover, we like most of those in the segment. From the agile and boldly styled BMW X3 to the larger, softer, best-selling Lexus RX 350, the category offers something good for everyone. But we never had a clear favorite until we drove the Audi Q5.