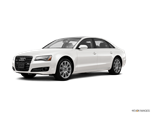 The 2014 A8 L is the latest addition to the ever expanding A8 lineup. Achieving an impressive EPA-estimated 24/36 city/highway rating, the A8 L TDI ushers in a new era of fuel efficiency to the full-size luxury segment. There are also several new option packages across the line.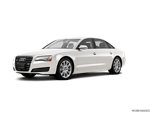 For 2013, the Audi expands the A8 lineup to four trims: a 3.0T V6, 4.0T V8, S8 and W12. The twin-turbocharged V8 is more powerful than the outgoing 4.2-liter V8 it replaces, and the 3.0T creates a new lower price point for the A8 without sacrificing power or standard-equipment levels. New features include a hands-free trunk release and top and corner-view cameras.
About Audi A8
Despite the fact that BMW and Mercedes-Benz have enjoyed a considerable head start in the field of large luxury sedans, the Audi A8 has proven it's a fast learner. When it comes to feature content, performance and prestige, the A8 holds its own against long-refined rivals like the BMW 7 Series, Mercedes-Benz S-Class and Lexus LS. The 2014 Audi A8 receives a number of enhancements to keep pace with its posh competition, including a new diesel-powered TDI model that returns best-in-class fuel economy. Buyers may also choose between a standard wheelbase and long-wheelbase "L" versions, with the latter boasting an additional five inches of legroom. As for blending the highest levels of luxury and performance, you'd be hard pressed to do better than the 520-horsepower Audi S8.