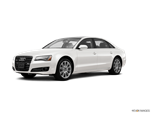 The 2014 A8 L TDI is the latest addition to the ever expanding A8 lineup. Boasting an impressive EPA-estimated 24/36 city/highway rating, the A8 L TDI introduces a new level of fuel efficiency to the full-size luxury segment.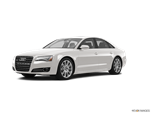 For 2013, the Audi expands the A8 lineup to four trims: a 3.0T V6, 4.0T V8, S8 and W12. The twin-turbocharged V8 is more powerful than the outgoing 4.2-liter V8 it replaces, and the 3.0T creates a new lower price point for the A8 without sacrificing power or standard-equipment levels. New features include a hands-free trunk release and top and corner-view cameras.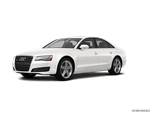 For the 2012 model year, the Audi A8 is available with a selection of new interior packages as well as Audi connect with Google Earth-view maps. The high-performance 2013 S8 variant differs itself from the rest of the A8 sedans by offering sporty interior touches and a new twin-turbo V8 engine, which replaces the V10 that was offered in the previous S8.
About Audi A8
The Audi A8 is a full-size premium luxury sedan loaded to the brim with the company's latest technological advances. More than just a showcase for Audi design and engineering, the A8 serves two masters: The driver and the chauffeured. Every bit the equal of such makes as the Mercedes-Benz S-Class, BMW 7 Series and Lexus LS, the A8 appeals to those who have the cash, but might prefer not to flaunt it quite so much. The A8's subtle styling is alluring without being flashy, a traditional design that stands the test of time long after other cars have become dated. Offered in regular or extended wheelbase versions, and with a choice of a new V8 or the proven W12 engine, the A8 is all about style, sophistication and success.