2011 Audi A8 Review
By KBB.com Editors
Audi's "Truth in Engineering" tagline and commitment to endowing its cars with the highest levels of technology will be rigorously tested with the 2011 Audi A8 going against the stiff competition in the full-size premium sedan segment. The Lexus LS range consistently offers a wide range of technical features and much-lauded engineering precision, the Mercedes-Benz S-Class packs near-mythic levels of luxury and a very wide range of powerplant options, and the Jaguar XJ is a truly viable contender. The Audi A8's fiercest competitor, however, might be the BMW 7 Series, particularly in the area of driving dynamics. Two A8 models will be offered, the standard-wheelbase version and the long-wheelbase A8 L.
You'll Like This Car If...
You particularly enjoy tactile sensation when interfacing with the car's interior and controls. No other sedan in the segment delivers a higher quality interior than the 2011 Audi A8, evidenced in top-tier materials like real aluminum, silk-smooth leather and even top-grade plastic when plastic must be used.
You May Not Like This Car If...
You expect an entirely visceral driving experience. The 2011 A8 might not quite match the steering precision, feedback and road feel of a BMW, or the large number of engine choices from Mercedes-Benz.

What's New for 2011
The exterior styling of the 2011 Audi A8 sedan is all-new, yet largely follows the traditional and elegant theme established for the A8, with enhanced LED lighting up front. As with the R8 sports car, aluminum Audi Space Frame construction has helped hone the chassis and reduces that chassis weight by a claimed 40 percent over a comparable steel structure. Inside, the MMI control interface has been revised, incorporating an innovative touchpad for driver input.
Driving Impressions Three things help contribute to the quick 5.7-second zero-to-60-mph time of the 2011 Audi A8: Lighter construction due to the Audi Space Frame, a new 8-speed automatic transmission and a...
22-horsepower increase over the previous V8 engine. The driving experience is surprisingly improved over the previous version, with precise steering and a great transmission helping to make the car feel quite nimble and smaller than it actually is. And there's always that magnificent interior to keep you company. The Audi's quattro all-wheel drive must be lauded for giving the 2011 A8 sedan a level of road-holding feel unmatched by its competition.
MMI Touch
There's just no disputing it: The 2011 Audi A8 introduces a new level to the driver-to-car interface with the touch-pad. Simply draw the characters with your finger when selecting a destination, or let the intuitive touch-pad backlight for easy access to your favorite stations.

8-Speed Automatic Transmission
Audi has managed to increase the fuel efficiency of the 2011 A8 sedan by some 13 percent, thanks in part to a new 8-speed automatic transmission. The 8-speed gearbox operation is virtually seamless, delivering quick and nearly imperceptible shifts under normal driving.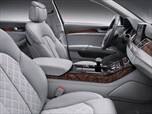 Interior
As stated above, there really is no better interior in this segment in terms of feel, fit, and finish. The standard upholstery is stitched Valonea leather; no smoother or more supple surface exists outside of offerings from perhaps Rolls-Royce or Aston Martin.
The controls on the center stack are logically grouped around the MMI in terms of function and Audi goes to great lengths to make sure each button or knob offers the same operational resistance as every other button or knob-small touches, but telling as to the overall attention to detail.
Exterior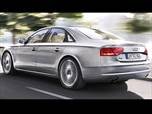 Like most every new Audi model, there's no mistaking the headlights on the 2011 A8. As with the R8 5.2, the lights display not only the distinctive daytime-running LED strip, but are themselves some of the first on the planet to rely solely on LED clusters for illumination.
That signature trapezoidal grille dominates the car's face and gives it a distinct personality. The perhaps simple yet stylishly elegant Audi A8 body language is complemented by a new 19-inch wheel design, with 20-inch alloys available for extra cost.

Standard Equipment
As the company flagship, every 2011 A8 and A8 L sedans come equipped with Audi's quattro all-wheel-drive system. Additional standard equipment includes 18-way power-adjustable front seats, burl walnut trim, directionally adaptive headlights and the next-generation MMI interface. Everything else a luxury-car buyer would reasonably expect as standard equipment on a vehicle of the Audi A8's character and image is, naturally, included.
Optional Equipment
Safety-related options for the 2011 Audi A8 include lane assist, adaptive cruise control, side assist to monitor blind spot areas, and Audi Night Vision Assistant with pedestrian-detecting and highlighting capability. For the audiophile, the high-end Bang & Olufsen sound system includes 19 speakers, 1,400 watts of power and is claimed to make the Audi A8 a virtual concert hall on wheels.

The 2011 Audi A8 is offered with a 4.2-liter V8 of 372 horsepower and 328 lb-ft of torque, hooked up to an 8-speed Tiptronic transmission, which drives all four wheels via Audi's signature quattro all-wheel drive. The powertrain is everything you would expect and a luxury car deserves, making lots of smooth and responsive power and delivering it nearly-seamlessly to all four wheels, resulting in a car that will deal with just about anything the roads or the weather may throw at it.

4.2-liter V8
372 horsepower @ 6,800 rpm
328 lb.-ft. of torque @ 3,500 rpm
EPA city/highway fuel economy: 17/27
To compare current market prices, check out KBB.com's car classifieds to view the new and used Audi A8 vehicles for sale near you.