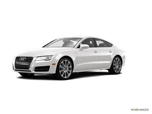 The big news for the 2014 Audi A7 is the addition of a diesel engine model and a new, high-performance RS 7, the most powerful RS model ever offered in the U.S. Other changes include the removal of the rear bucket seats on A7 and the deletion of the Premium trim.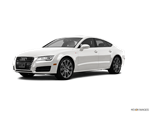 Newly introduced just last year, the Audi A7 carries into 2013 with no major changes. The late-introduction S7 likewise goes unchanged.
About Audi A7
Although we have Mercedes-Benz to thank for the oxymoronic "4-door coupe" category, Audi has gone one better with its A7 5-door coupe. Actually a 5-door liftback with a generous cargo hold and stunning silhouette, the 2014 Audi A7 incorporates everything right about Audi cars, from its stunning interior to its quattro all-wheel drive (AWD) to the myriad of engine choices and performance variants. Nestled nicely between the bread and butter A6 and the massive A8, the A7 holds special appeal to those who desire functionality and performance in an exclusive package that, while not appealing to everyone, is still attractive enough to catch everyone's eye.