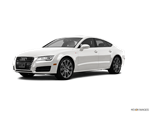 Newly introduced just last year, the Audi A7 carries into 2013 with no major changes. The late-introduction S7 likewise goes unchanged.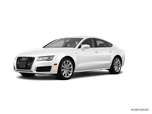 Starting at around $60,000, the 2012 Audi A7's price falls somewhere between the expensive Mercedes-Benz CLS and the comparatively cheap VW CC; bringing premium 4-door-coupe ownership to those who are merely well-to-do.

About Audi A7
The oxymoronic "4-door coupe" concept was founded by the Mercedes-Benz CLS, brought to the middle-class by the Volkswagen CC and applied unexpectedly to a crossover SUV by the BMW X6. Now Audi is further expanding the four-door coupe category with the A7, a sleek 4-seater that sports a roofline reminiscent of a coupe and, in an M. Night Shyamalan-style twist, a super-useful hatchback. In a sense the 2012 A7 embodies the best that Audi currently has to offer, combining sizzling emotive design with substantive attributes like all-wheel drive (AWD), advanced in-car technology and compelling driving dynamics.