For 2013, the A5 and S5 receive a revised grille, bumper and headlight treatment as well as the addition of Audi Connect on models equipped with MMI and navigation. The S5 get a new supercharged 3.0-liter V6, while last year's 4.2-liter V8 migrates to the all-new RS 5.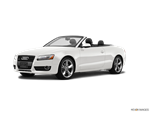 Audi has differentiated the 2012 A5 Cabriolet from its Coupe sibling with a new 18-inch, 15-spoke wheel design. There's an 18-inch, 10-spoke V-design wheel on the Coupe, while new S line trim options add a sportier appearance and nicer interior details.
About Audi A5
Audi's ever-broadening model lineup has added one more key player for 2008 in the form of the stylish A5 all-wheel-drive performance coupe. Based on new platform architecture that will also be shared with other Audis – including the all-new 2009 A4 line – the V6-powered A5 (and its even-sportier V8-powered S5 kin, reviewed separately) gives the German automaker a serious competitor to several premium-grade, enthusiast-oriented two-door models, including the BMW 3 Series, Infiniti G37 and Mercedes-Benz CLK-Class. With its potent powertrain, head-turning looks, comprehensive features, seating for four and a choice of manual or automatic transmissions, the A5 definitely raises Audi's overall image and style rating – and most likely will do the same for its sales numbers, as well.