For 2014 the Audi A4 line has moderate changes. The turbocharged 4-cylinder engine of the A4 is up to 220 horsepower, and the rest of the changes are related to the content of some options packages, trim details, new-design wheels and the like.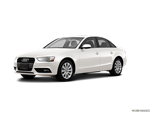 The 2013 Audi A4 gets a new hood and headlights, and inside, there's a new instrument cluster with simplified layout for the Multi Media Interface (MMI) electronics control. Electric power steering replaces the previous hydraulic boost. The A4 Avant wagon goes away with the arrival of the new Allroad.
About Audi A4
For 2014, the Audi A4 and S4 line continues among the leaders of entry-luxury sports sedans. Inside and out, it's beautifully styled and built with exquisite attention to the details, and offers generous space efficiency with an extraordinarily high level of interior refinement. The A4 engines are powerful, comfort is supreme, performance is impressive, and efficiency is noteworthy – the entire package is terrific. The S4, with its supercharged V6 and quattro all-wheel-drive (AWD) setup, resides in the nation of awesome. In a tough class with the BMW 3 Series, Mercedes-Benz C-Class, Cadillac CTS and Infiniti G37 (renamed the Q50 for 2014), among others, the beautiful and beautifully-detailed A4 remains a formidable and highly-attractive choice.