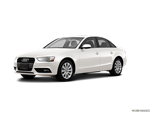 The 2013 Audi A4 gets a new hood and headlights, and inside, there's a new instrument cluster with simplified layout for the Multi Media Interface (MMI) electronics control. Electric power steering replaces the previous hydraulic boost. The A4 Avant wagon goes away with the arrival of the new Allroad.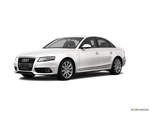 For 2012, the Audi A4 Premium Plus and Prestige models now come equipped with the Audi S line appearance package as standard equipment, and they also have stylish new 18-inch ten-spoke wheels.
About Audi A4
With so much to love about Audi's A4, it's hard to find a reason not to own one. From a driving enthusiast's point of view, the A4's quattro all-wheel drive and energetic turbocharged four-cylinder engine make it the ideal car, while young status seekers crave it for its upscale pedigree and reasonably affordable price. Audi even nails the little things many of its competitors overlook, such as providing the front passenger's seat with the same creature comforts as afforded the driver's seat and backlighting every switch and control regardless of importance. If it weren't for the A4's somewhat cramped rear quarters, we'd almost be tempted to call it the perfect sedan.