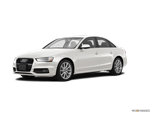 Audi's A4 and S4 for 2015 receive a number of minor improvements, the highlights of which include the addition of last year's S line style package as standard equipment on all A4s. A 60/40-split rear seat, headlight washers and 3-zone climate control are also now standard on all A4s.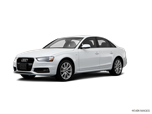 For 2014 the Audi A4 line has moderate changes. The turbocharged 4-cylinder engine of the A4 is up to 220 horsepower, and the rest of the changes are related to the content of some options packages, trim details, new-design wheels and the like.
About Audi A4
Where other premium brands have the prerequisite parts to comprise a midsize luxury car, Audi's A4 and S4 for 2015 combine wood, leather, chrome and steel in a way that transcends mere transportation. The A4 sedan's powerful yet fuel-efficient turbocharged engine is an Audi hallmark, while the high-performance S4 meshes a supercharged V6 with the company's advanced quattro all-wheel drive (AWD) to create a sports sedan experience like no other. With other luxury sedans such as the BMW 3 Series, Cadillac CTS and Infiniti Q50 all vying for the same audience, Audi's A4 and S4 performance sedan duo face tough competition. Luckily for Audi, there is no substitute for what the quadruple ring emblem represents to some buyers.