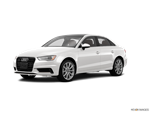 The Audi A3 and high-performance S3 sedans are all-new for 2015. Joining the lineup are a fuel-efficient diesel engine and a fun-to-drive convertible.
There are no major changes to the 2013 Audi A3.
About Audi A3
Audi's player in the rapidly expanding entry-luxury segment is the sub-$30,000 (destination charges not included) 2015 A3 sedan. Happily that price tag comes attached to a car you'd actually want to drive. Both sporty and welcoming, the all-new A3 and sportier S3 may be small, but they're a pleasure to live with – a standard panoramic sunroof, bi-xenon headlights and leather seating only sweeten the deal. The new-for-2014 Mercedes-Benz CLA is a prime competitor, as are the cheaper Acura ILX and Buick Verano, but the A3 distinguishes itself as a traditional premium sedan available with a fuel-efficient diesel engine or in a fun convertible version. A hatchback will eventually join the lineup. We like the A3 and we're guessing luxury buyers looking to downsize will too.