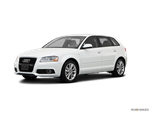 There are no major changes to the 2013 Audi A3.
After receiving a modest refresh in 2009 and the end of its current lifecycle in sight, the Audi A3 remains virtually unchanged for the 2012 model year.
About Audi A3
The Audi A3 has succeeded where others before it have failed. Conventional wisdom says Americans don't purchase small premium-luxury hatchbacks, and the lackluster sales of the BMW 318ti and Mercedes-Benz C230 coupe seem to lend credence to the theory. Yet, despite all odds, Audi's A3 has caught on, offering four-door versatility wrapped in a sleek package that forgoes a trunk in favor of a rear hatchback. Of course, it doesn't hurt that the A3 is priced well below $30,000, offers two great engine choices and is fitted with many of Audi's trademark features, such as quattro all-wheel drive and the revolutionary Direct Shift Gearbox (DSG).