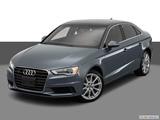 Driving Impressions From the driver's seat, the new A3 feels compact, but not in a disconcerting, exposed way, but rather like the unnecessary mass has been removed. Small-car fans will find a...
... lot to like here. The ride is supple and the cabin quiet, helping make daily commutes or long-distance travel all the more tolerable. Despite its stable, pleasant demeanor on the freeway, the A3 remains impressively agile in the corners. Ride quality in the performance-focused Audi S3 is expectedly taut, but not to the extent your daily commute is transformed into a cringe-worthy affair. Diesel,
hybrid
and high-performance variants are on the way, but at launch the A3 comes with two turbocharged gasoline powertrains – a front-wheel-drive 170-horsepower 1.8-liter that eagerly sprints to 60 mph in slightly more than seven seconds, or an all-wheel-drive 220-horsepower 2.0-liter that does the run to 60 in less than six seconds. Knocking out gear changes with impressive speed and smoothness, a standard 6-speed dual-clutch S-Tronic transmission rounds out the A3's well-sorted dynamic package.