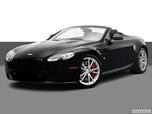 Despite the addition of more standard features, Aston Martin dropped the price on every V8 Vantage model by $2,000 - $3,000. The 7-speed single-clutch automatic gearbox from the V8 Vantage S replaces last year's conventional 6-speed unit in base V8 models. A handful of minor styling and mechanical tweaks round out the changes for 2013.
About Aston Martin Vantage
Offering the most affordable gateway into the Aston Martin brand, the 2013 Vantage packs a visual and performance punch worthy of its prestigious badging. More than just a pretty face, the 2-seat Vantage coupe and roadster back up their aggressively sculpted sheet metal with supercar-like handling characteristics and the choice of a potent V8 or ferocious 510-horsepower V12. The Vantage also features the same lightweight yet structurally ridged aluminum body structure that underpins every modern Aston Martin. Segment juggernauts like the Audi R8, Mercedes-Benz SL63, and upmarket varieties of the Porsche 911 deliver more acceleration for your buck, but when it comes to outright emotional involvement and brand cache, the 2013 Aston Martin Vantage stands alone.