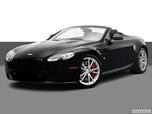 Despite the addition of more standard features, Aston Martin dropped the price on every V8 Vantage model by $2,000 - $3,000. The 7-speed single-clutch automatic gearbox from the V8 Vantage S replaces last year's conventional 6-speed unit in base V8 models. A handful of minor styling and mechanical tweaks round out the changes for 2013.
About Aston Martin Vantage
The 2014 Aston Martin Vantage offers the most affordable way into the Aston Martin brand. Of course, it still costs more than $120,000, so "affordable" is relative here. Regardless, the 2014 Vantage offers a striking design that's the equal of its larger, more expensive siblings, and it has the performance to back it up. The Vantage offers either a potent V8 engine, or a newly enhanced V12. Couple that with excellent handling and a stiff aluminum structure, and there's no doubt you have a supercar on your hands. While it's true that competitors like the Audi R8 and Porsche 911 offer more acceleration and performance for your dollar, there's virtually nothing that offers the visual punch and emotional involvement of the Aston Martin Vantage.