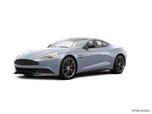 New for 2014 is the addition of the Vanquish Volante convertible model.
About Aston Martin Vanquish
Here's some KBB buying advice: If you're going to spend nearly $300,000 on a car, make sure it's something special. With a 565-horsepower V12, advanced carbon-fiber construction and intensely seductive body lines, the 2014 Aston Martin Vanquish is undeniably special. Offered as a coupe and a convertible (that's "Volante" in Aston-speak) the Vanquish is an elite grand tourer built more for pleasurable motoring than pure performance, though it's certainly no slouch when the mood strikes. Similarly lofty competitors include the Bentley Continental GT Speed, Ferrari F12 Berlinetta and the Mercedes-Benz SLS AMG GT. Cars this grand might seem excessive, but for one-percenters who relish stellar craftsmanship, timeless style and reserved, confident class, it's hard to imagine a finer automotive match than the Aston Martin Vanquish.