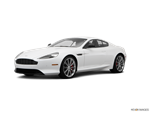 Automatic headlights, a rearview camera and rain-sensing windshield wipers become standard on 2014 DB9 models. New colors are also available this model year, as is a sports exhaust system.
The 2013 Aston Martin DB9 has a new V12 engine that is more powerful yet emits slightly fewer emissions. Carbon-ceramic Brembo brakes are now standard. Exterior revisions are most noticeable in the DB9's front fascia and rear trunk lip, while the underlying chassis has been stiffened for better performance.
About Aston Martin DB9
Among the world's exclusive performance cars, British automaker Aston Martin stands above luxury brands such as Audi and BMW and just below exotics such as Ferrari and Bentley. The 2014 DB9 itself sits in the middle Aston Martin's lineup, above the Vantage and below the Vanquish GT. Like the Vanquish, the DB9 is more of a civilized touring car than the track-oriented Vantage, yet it remains a formidable performer. Available as a coupe or convertible (Volante), the DB9 has stunning design and a captivating V12 engine that makes over 500 horsepower. At nearly $190,000, the DB9's cost of entry is for an elite few who will then have to locate a dealer, but taking the plunge grants immediate access to a high-class club that counts James Bond as a member.