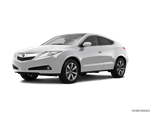 2013 marks the final year of production for the Acura ZDX. The SUV will come in just one well-equipped trim that receives a revised grille and safety features such as lane-departure warning and parking sensors. The Advanced Package that included dynamic cruise control and selectable suspension setting is no longer an option.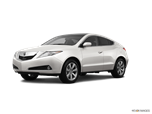 There are no major changes for the 2012 Acura ZDX.
About Acura ZDX
Acura's 2012 ZDX sport crossover is a difficult car to justify. Its sharply-sloped back and aggressive front end are meant to impart a coupe-like stance, while its four doors and rear liftgate speak to a more utilitarian side. Unfortunately, the Acura ZDX crossover doesn't really pull either image off very well. It's not very coupe-like, and its roof design translates to a severe lack of rear-seat head and legroom. We might be able to forgive these transgressions if there was some performance benefit waiting at the other end of the push-button ignition, but its V6 engine doesn't have what it takes to really thrill, leaving us to suggest that unless you're totally enamored by this ZDX's looks, you might want to look elsewhere.