2010 Acura TSX Review
By KBB.com Editors
Looking for a premium-branded sedan with a $30,000 starting price and fuel economy that reaches into the 30 miles-per-gallon range? Congratulations, you've found it. While its Acura TL big brother competes with heavy hitters like the BMW 3 Series and Infiniti G Sedan, the second-generation Acura TSX is light on direct competitors. The Volvo S40 is one, as are the Audi A4 and Lexus IS. The TSX's big advantage versus most of its competitors can be summed up in a word that a premium-brand marketer like Acura would never use: Value. A fully-loaded, tech-laden 2010 Acura TSX with the four-cylinder engine tops out at just over $33,000, while opting for the V6 under the hood brings the price to just shy of $40,000. Combined with an EPA rating of up to 30 mpg on the highway, the Acura TSX may be the best premium bargain going.

You'll Like This Car If...
With fuel prices and the economy being what they are, the 2010 Acura TSX is a premium sedan for our times. In terms of technology, fuel economy, performance and value, the Acura TSX is a premium-level bargain.
You May Not Like This Car If...
While Acura now offers the bigger TL with a choice of front- or all-wheel drive, the 2010 Acura TSX remains strictly a front-driver. Most buyers, though, should consider this a non-issue. More troubling to some of us is the electric power steering system that demands constant attention on the highway.

What's New for 2010
The big news for 2010 is the addition of a 3.5-liter V6 model to the TSX family. The V6 delivers its 280 horsepower through a five-speed Sequential SportShift automatic transmission, which can be operated by either tapping the shift lever or via a set of steering-wheel mounted paddle shifters. The TSX V6 also receives 18-inch wheels, a stiffer suspension, upgraded brakes, one-touch ignition key start and Acura's new Active Sound Control system.
Driving Impressions We could hardly ask for a better balance of fun and comfort from a sporty, front-wheel drive, entry-premium sedan than that delivered by the 2010 Acura TSX. It encourages a...
quicker pace when the road begins to meander, and adequately absorbs surface irregularities and external roars when cruising. We like the six-speed manual's precise shifting action and the five-speed automatic's exceptionally aggressive Sport mode. The Kryptonite in the garage is an efficiency-enhancing electromechanical power steering (EPS) system that ranges from a shortcoming to a deal-breaker, depending on which KBB editor you ask. Most vehicles require subtle steering input when traveling straight down the highway; the 2010 Acura TSX requires constant, unnatural-feeling correction. We're hoping the system will be improved over the life of the TSX, because we really like the rest of the package.
DVD-Audio Surround Sound
The base sound system is good, but the comprehensive premium sound system included in the Technology Package is downright amazing. You might think about dropping by the dealer just to experience the crystal-clear, 5.1 DVD-Audio Surround Sound.

Voice-controlled Navigation System
The 2010 Acura TSX offers a sophisticated navigation system with a big, eight-inch screen, voice input of city and street names, Zagat restaurant information, weather conditions and real-time traffic information and rerouting. A rear-view camera is also part of the package.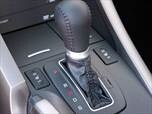 Interior
If soft, warm and rich is the vibe you seek from a premium sedan, settling into the TSX may leave you cold. The TSX eschews traditional luxury cues for a more technological type of richness, although wood-look trim is available. The seats are comfortable and supportive, and the second row sufficiently passes the six-footer test. The smallish trunk is less impressive, but a 60/40-split rear seatback adds flexibility. All told, inside the 2010 Acura TSX is a satisfying place to spend a long commute.
Exterior
The 2010 Acura TSX is measurably longer and wider than its predecessor, and defined by sharp edges, pronounced wheel flares and a forward lean that give it a bolder, more athletic demeanor. The face is distinguished by angular, xenon high-intensity discharge headlights, Acura's new shield-like grille and a wide lower intake. Mirror-integrated turn signals, 17- or 18-inch wheels and a long shoulder crease lead back to complex tail lights, an integrated spoiler-like element and dual exhaust tips.

Standard Equipment
The 2010 Acura TSX boasts a long list of standard equipment that includes Bluetooth phone connectivity, iPod integration (and simpler auxiliary input), steering wheel-mounted controls, leather seating with position memory, moonroof and dual-zone climate control. The V6 adds 18-inch alloy wheels, one-touch ignition key start and Acura's new Active Sound Control system, which works by eliminating exterior sound entering the cabin. All the safety gear is included, such as front, front side-impact and two-row side-curtain airbags, plus electronic stability control.
Optional Equipment
Every bit of optional equipment available on the 2010 Acura TSX is wrapped up into one mouth-watering Technology Package, the highlights of which include a world-class DVD-Audio Surround Sound system and a comprehensive advanced navigation system, both of which are detailed in the "Favorite Features" section of this review.
The 2.4-liter four-cylinder engine is coupled with either a slick-shifting six-speed manual transmission or a five-speed automatic that features a high-revving Sport mode. Like in so many Honda and Acura vehicles, the i-VTEC engine is at its best when pushed hardest. Those seeking better low-end performance should look at the new 3.5-liter V6. With 280 horsepower on tap it's sure to be a scintillating ride, although without a manual transmission, probably not as much fun as the base car.

2.4-liter in-line four-cylinder
201 horsepower @ 7000 rpm
172 (manual), 170 (automatic) lb.-ft. of torque @ 4300 rpm
EPA city/highway fuel economy: 20/28 (manual), 21/30 (automatic)

3.5-liter V6
280 horsepower @ 6200 rpm
254 lb.-ft. of torque @ 5000 rpm
EPA city/highway fuel economy: 18/27
To compare current market prices, check out KBB.com's car classifieds to view the new and used Acura TSX vehicles for sale near you.