Aside from a new paint color, the only major difference in the 2015 Acura ILX lineup is the absence of the ILX Hybrid. That's fine, since the ILX got a few much-needed upgrades last year, like the addition of active noise cancellation and an upgraded audio system.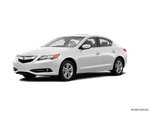 Among the new available features (some standard depending upon the package) for the 2014 ILX are standard 17-inch alloy wheels, leather seating surfaces (except on the Hybrid), an 8-way power driver's seat, leatherette door liners, heated front seats, a multi-view rear camera, a new audio-system subwoofer and Active Noise Cancellation.
About Acura ILX
There's a new luxury sedan segment that's opening up, and the 2015 Acura ILX is at the forefront. Priced well below cars like the BMW 3 Series and Audi A4, the ILX is also smaller, but it packs a lot into its compact dimensions. It looks great, and is easily one of the more attractive Acura sedans to come along in recent years. Its 4-cylinder engines come with excellent fuel-economy numbers, and the ILX has enough technology and performance to convince luxury-sedan buyers that they're being smart, and not cheap. Granted, the Acura nameplate doesn't have the cachet of the Audi A3 or Lexus CT 200h, but like the similar Buick Verano, the ILX does have one significant advantage: price.